Checkups & Cleanings in Harker Heights
Many of our patients ask – "Do I really need to visit the dentist every six months?" The short answer is—yes. The American Dental Association recommends patients visit us at least twice a year to maintain their optimal level of oral health. Regular preventive checkups allow our team to diagnose common oral health concerns in their earliest stages in order to offer the most conservative treatment options. During each visit we screen for signs of tooth decay, gum disease, and other common oral health issues, review existing dental restorations, and develop an ongoing treatment plan to preserve oral health.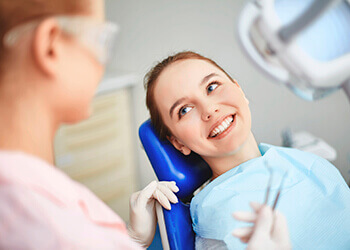 Regular checkups and teeth cleanings are essential because oral health issues only get worse over time. When left untreated, preventable problems gradually progress, eventually leading to extremely harmful results. Our treatment philosophy is simple: we help patients avoid extensive decay or damage with a dedication to Lifetime Care, both in our practice at from the comfort of home. Specifically, we partner with patients to ensure even the subtlest early indications of is addressed right away with in-office treatments or adjustments to at-home hygiene.
We recommend kids begin their lifelong journey of healthy, happy smiles by their first birthday or once the first tooth erupts. These early childhood appointments, sometimes referred to as "happy visits," allow kids to adjust to the sights and sounds of the dental office and giver our team the opportunity to examine developing dental structures to ensure your child's smile is on the right track.
Contact our Market Heights Family Dental team to find out more about general dentistry services or to schedule an appointment today. Our practice is happy to welcome patients from Nolanville and all of Bell County.