Emergency Dentistry in Harker Heights
By their very nature, emergencies are painful, stressful, and inconvenient. The good news for Market Heights Family Dental patients is you don't have to handle dental emergencies alone. Our Harker Heights dentists and team are happy to help you relieve pain and restore oral health with same day appointments whenever possible and first aid tips and strategies to help patients until they reach our office. Call us right away if you experience an emergency. After hours, call our main line and follow the instructions to contact our on call staff member. If you or a loved one experiences severe bleeding, potentially broken jaw, or dental damage that is part of more severe facial trauma, proceed to the nearest emergency room or dial 911. Our team is happy to partner with other medical professionals to ensure your oral and overall health are both restored safely and effectively.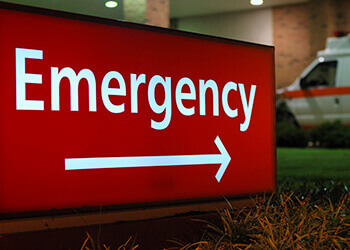 We trust our patients to contact us only if they're experience a true emergency, but if you're not sure that your situation is considered urgent, here are some of our most frequent emergencies we treat and first aid tips to maintain oral health until you arrive at our office:
Temporary Crown Falls Out
If a temporary crown falls out, carefully retrieve it if possible. Dry your tooth, apply a small dab of tooth paste, and place the temporary over the tooth. Denture adhesive and dental wax are also excellent temporary adhesive and are readily available in local pharmacies. This is only a temporary measure. Please contact our team right away so we can more permanently reattach the restoration.
Knocked Out Tooth
If you've lost a tooth, carefully rinse the knocked out tooth handling it by the crown (visible part of the tooth). Warm water alone should be effective. There's no need to use toothpaste or other cleaners. Rinse your mouth out with warm water as well. Then, replace the tooth into the vacated socket and hold it in place by biting down on sterile gauze or a clean cloth until you arrive at our office. If this is not possible, store the tooth in a container of milk to preserve it until your appointment.
Cut/Bitten Tongue or Lip
If you have a deep cut or bite on your tongue, cheek, lip, or other soft tissue, you may need stitches. Before proceeding to your local emergency room, take a few moments to clean the wound with cool water and apply gentle pressure with a cold compress. If bleeding has not mostly ceased within half an hour, we recommend visiting the emergency room.
Broken Tooth
Immediately rinse the area around the cracked or broken tooth with warm water. Bite down on gauze or a clean cloth or use dental wax to protect your soft tissue and surrounding teeth from any sharp points that may have formed on the tooth. Use a cold compress to reduce pain and swelling.
Severe Toothache
Rinse, brush, and floss around the painful area to ensure there is not any foreign debris causing discomfort. You may want to take over the counter pain relievers to manage discomfort, but never place an aspirin onto the tooth as this may damage soft tissue. Call right away if pain persists.
Something Caught Between Teeth
Gently floss between teeth and the object in an attempt to dislodge it. Do not use sharp objects to remove the item as this could case additional damage. If you are unable to remove the item, contact us right away, and protect the affected area by avoiding eating until the item is dislodged and chewing on the opposite side, if this is necessary.