Replace Missing Teeth – Harker Heights, TX
We Offer Multiple Solutions to Restore Your Smile
Tooth loss affects more people than you think. Even just one lost tooth can have a large impact on your quality of life. Eating, speaking, and smiling can be a challenge. But instead of continuing to live with an incomplete smile, consider giving Market Heights Family Dental a call to learn about your options to replace missing teeth in Harker Heights, TX. Not only can you make your smile complete once again, but you'll do big favors for your long-term oral and overall health!
Why Choose Market Heights Family Dental for Replacing Missing Teeth?
Natural-Looking, Fully Customized Restorations
Durable Materials Made from Stain-Resistant Ceramics
Partners with Experts to Place Dental Implants
Dental Bridges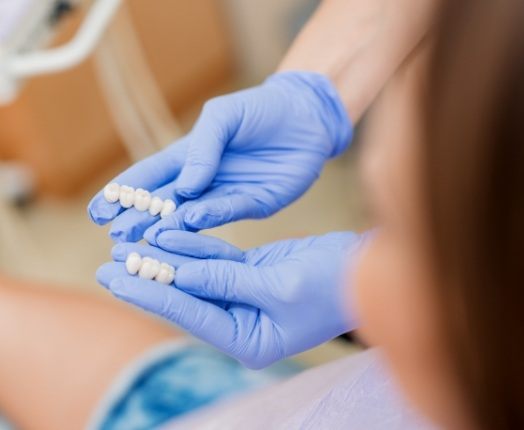 One of the more traditional options for replacing teeth (both single and multiple consecutive) is dental bridges. This restoration consists of several crowns fused (typically three). The crowns on either end of the restoration are hollowed out, allowing them to be attached to modified teeth sitting adjacent to the gap in your smile. The crown in the center (or pontic) effectively fills the gap and prevents your natural teeth from shifting out of place.
Learn More About Dental Bridges
Dentures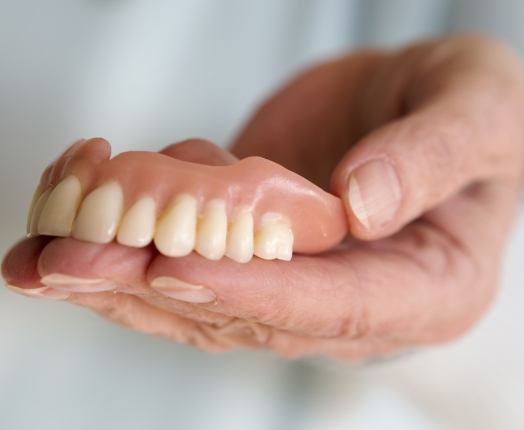 Depending on your tooth loss, you may need a full denture or a partial denture. Full dentures rely on the shape of your mouth as well as natural suction to replace either the top or bottom arch of teeth. Partial dentures are meant to replace multiple teeth on opposite sides of the mouth and use metal hooks that wrap around existing teeth to remain stable.
Dental Implants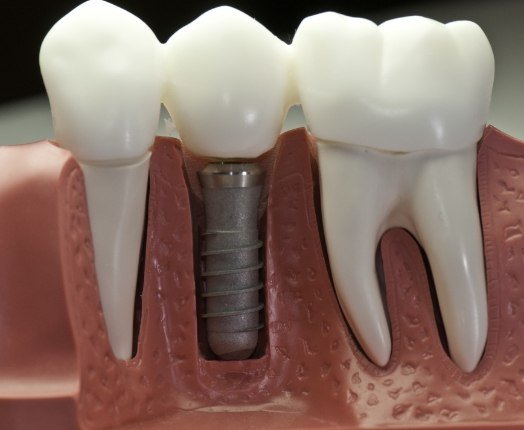 Because dental implants are the only option that replaces both the root and crown of teeth, they offer unique benefits that you won't find with bridges or dentures. They stimulate the jawbone, preventing bone tissue from breaking down. This ensures you can eat your favorite foods and maintain your facial appearance, two issues not effectively resolved with bridges or dentures. Furthermore, dental implants can be paired with bridges and dentures for a more secure fit.
Learn More About Dental Implants