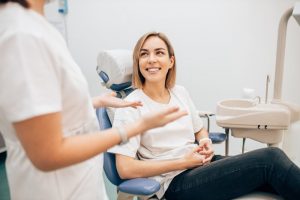 No one needs to tell you to brush your teeth daily; you're quite aware of its importance in maintaining fresh breath and preventing cavity development. Achieving excellent dental health, though, requires a bit more. As you continue reading, your dentist in Harker Heights lists 5 important oral hygiene practices that you should never skip!
#1 – Brushing at Least Two Times a Day
Unfortunately, brushing in the morning doesn't provide adequate protection for your teeth and gums throughout the day. Because you're likely to eat and drink several times, your mouth can be bathed in excess bacteria that can quickly develop into plaque. Brushing at least two times a day (in the morning and at night) serves as an added line of defense against tooth and gum decay.
#2 – Using a Toothbrush with Soft Bristles
While using a toothbrush with harder bristles may seem like the best way to remove debris from your teeth, it could do more harm than good. Over time, it can damage the enamel (the hard-outer layer of your teeth). To better avoid a mishap, look for a toothbrush with soft bristles.
#3 – Flossing When You Brush
Every time you brush your teeth, you should floss. If you enact this simple rule, it can do wonders for your dental health. That's because dental floss can get into the tight spaces between your teeth that a toothbrush can't, which helps considerably in controlling plaque growth.
#4 – Replacing Your Toothbrush When Necessary
While a toothbrush is a necessary part of your dental hygiene regimen, it's important to discard it at the right time. As a general rule, it should be switched every 60 to 90 days. However, if you've been sick, you should immediately discard it so you can prevent a reinfection. You should also be on the lookout for frayed or irregular bristles, as these are also indicators that it's time for a new toothbrush.
#5 – Using Safe and Effective Technique
When it comes to performing oral hygiene, technique is of the utmost importance. This will help to avoid enamel damage and a gum injury. Here are some easy-to-follow tips to implement into your at-home dental care regimen:
Brush properly – Move in a gentle, circular motion and position the toothbrush away from your teeth at a 45-degree angle while cleaning.
Floss cautiously – Carefully lower the floss between your teeth using a back-and-forth motion and form the material into a "C" shape to clean around each tooth.
Clean your tongue thoroughly – Your tongue touches every part of your mouth. Therefore, you should focus on cleaning it well with your toothbrush after brushing your teeth.
Now that you're aware of the oral hygiene best practices that will take your dental health to the next level, the only thing left to do is execute. You'll be glad that you did!
About the Author
Dr. Jennifer Hoang earned her dental degree from the University of Texas School of Dentistry at Houston. Since then, she has completed several hours of continuing education so that she can offer her patients the most comprehensive care possible. Dr. Hoang practices at Market Heights Family Dental, and she can be reached for more information or to schedule a visit through her website.