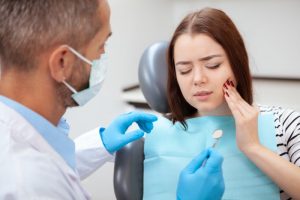 As a reward for toiling throughout the year, you finally get a chance to "let your hair down" and enjoy a well-deserved summer vacation. While soaking up some sun rays, the last thing on your mind is experiencing a dental emergency. Unfortunately, it's at times like these, that one can rear its head. As you continue reading, an emergency dentist in Harker Heights provides some helpful tips for managing your oral health while vacationing!
Tip #1 – Pack an Emergency Dental Kit
While preparing for a potential dental emergency may seem like a downer, it's much better to be ready than to be blindsided by an accident. Your portable kit should be stocked with the following:
Cotton gauze
A handkerchief
Saline solution
A small container with a lid
Over-the-counter pain reliever like ibuprofen (Motrin, Advil or Aleve)
The contact information (office number and email address) of your dentist
Tip #2 – Drink Plenty of Water
If you're out in the blazing sun, it's even more important to stay hydrated by drinking an adequate amount of water. There are oral health benefits as well, as drinking water helps to flush bacteria and leftover debris from your mouth and neutralize acid that could damage your tooth enamel. To ensure you're getting enough water, divide your weight by two and convert that number to ounces. For example, a person who weighs 200 pounds would need to drink a minimum of 100 ounces of water per day.
Tip #3 – Practice Safe Swimming
It's only natural to dip into some cool water for a swim while on vacation. During the summer months, pool accidents are one of the leading contributors to dental emergencies. The greatest danger is posed to children. If you have little ones, they should be careful not to quickly surface after swimming underwater (can lead to a collision), avoid running on slippery decks and be careful not to dive into shallow pools.
Tip #4 – Visit a Dentist Before Your Vacation
The best way to treat a dental emergency is to prevent it from happening. By visiting a dentist before your vacation, any potential issues can be identified and treated. Additionally, you'll have your teeth cleaned to ensure you're left with a gorgeous smile to display in your summer pictures.
You should be able to enjoy every minute of your summer fun. By taking the necessary precautions, you can prevent dental emergencies and avoid the pain and time-consuming treatments that come along with them!
About the Author
Dr. Jennifer Hoang earned her dental degree from the University of Texas School of Dentistry at Houston. Throughout her career, she has maintained a focus on further expanding her knowledge, which is why she has taken several hours of continuing education. Dr. Hoang uses her vast expertise to help families enjoy the absolute best oral health during the summer months. She provides preventive and emergency dental care at Market Heights Family Dental, and she can be reached for more information or to schedule a visit through her website.