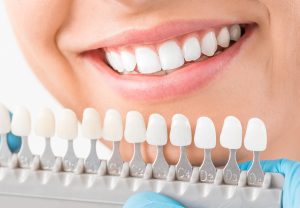 Think about the most beautiful smile you've ever seen. If you're of a certain generation it might be Julia Roberts or Will Smith — and today's may be Roberto Firmino (for soccer fans). But whatever pops into your mind when you think about fabulous pearly whites, you should know yours isn't too far off from that reality. A smile makeover is a wonderful way to transform the appearance and function of damaged or just imperfect teeth. Keep reading to learn more about how this option for cosmetic dentistry in Harker Heights works.
What Is a Smile Makeover?
A smile makeover is a comprehensive treatment option that aims to improve the appearance AND function of your smile. If you have been discouraged by imperfect teeth that you feel like would need a number of treatments, don't despair — this option can help you to avoid lengthy treatment times and enjoy your beautiful smile sooner. By thoroughly examining your teeth and precisely identifying issues, your dentist can put together a plan to target precise areas to treat in a more holistic fashion.
What Does a Smile Makeover Include?
No two sets of teeth are exactly the same — and so no two smile makeover treatment plans are identical, either. The procedures that are included in yours depends on what exactly your smile needs as well as what you would like to achieve with cosmetic dentistry (what we also call your "smile goals").
Some of the treatments that are commonly included in smile makeovers include:
Professional teeth whitening: At-home and in-office treatments can help you brighten your smile by up to 8 shades

Porcelain veneers: Thin restorations that cover up the front side of imperfect teeth

Invisalign: Clear aligners which gradually bring the bite into the proper alignment

Bonding and contouring: A noninvasive treatment that can improve minor imperfections affecting the teeth that show when you smile

Dental crowns: Sturdy restorations that restore strength and enhance the appearance of decayed, broken, or otherwise damaged teeth

Dental implants: A comprehensive replacement option for teeth that are missing or cannot be salvaged
What Are the Benefits of a Smile Makeover?
A smile makeover offers a number of advantages for patients who wish to improve the appearance of their teeth — and the benefits reach beyond just the cosmetic. Some of the reasons patients may want to consider this option include:
A smile makeover makes it possible to achieve a beautiful, complete smile faster than would be possible doing the treatments individually.

Smile makeovers aim to improve oral health as well as aesthetics.

Your dentist can customize the treatments to ensure your results look completely natural and align with your personal smile goals.

You may save money by undergoing a smile makeover compared to taking on a number of separate treatments.

At the end of the process, you enjoy a healthy, confident, long-lasting smile!
If you are interested in improving the appearance of your smile, a smile makeover is a wonderful option. Don't hesitate to learn about how it works from your dentist in Harker Heights!
Meet the Practice
Dr. Melinda Duncan and Dr. Sean McAnarney of Market Heights Family Dental offer a wide range of comprehensive dentistry options, from general and restorative to cosmetic services — including smile makeovers! To learn more about what is possible with your grin, you are invited to contact their office by calling 254-699-3565 today.