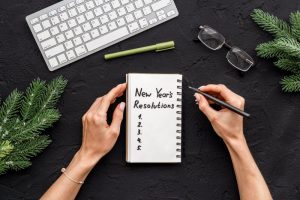 If your New Year's resolutions involve making improvements in your oral health, it will take the right plan and consistent effort to hit the mark. Thankfully, there is help available. As you continue reading, get 5 expert tips from your dentist in Harker Heights!
#1 – Schedule an Appointment Today
When it comes to improved dental health, one of the main obstacles to overcome is procrastination. This is especially the case when it comes to scheduling a visit with a dentist in Harker Heights. The sooner you take action, you'll be able to reap the benefits of receiving a thorough cleaning and checkup. You'll have a plaque-free smile and the peace-of-mind of knowing the condition of your oral health.
#2 – Upgrade Your Dental Hygiene by Flossing
While it's great to brush your teeth on a regular basis, it's not enough by itself. In fact, toothbrushing can only address about 60% of your teeth's surfaces. To clean the rest, you'll need dental floss. Its flexibility allows it to get into the tight spaces between your teeth to remove embedded bacteria and plaque.
#3 – Monitor Your Sugar Intake
If you love sugary delights, you're not alone. However, the tastebud satisfaction can come with a high price tag, as sugar attracts oral bacteria. As the bacteria feed on any lingering particles, acids are released that can eventually lead to tooth and gum decay. The more you're able to cut back on your sugar intake, the better off you'll be.
Limit your consumption of the following:
Candy
Sodas
Juices
Pastries
Alcoholic beverages
#4 – Make Improvements in Your Toothbrushing
When you brush, you want to get the most out of it. For maximum results, be sure to gently brush your teeth and gums, as oral bacteria can be found on both.
There is also a way to better clean the molars, which are notorious for cavity formation. Open your mouth wide to insert the toothbrush in the area, and then close it as you brush your teeth. This will allow the toothbrush to move freely for maximum coverage.
#5 – Don't Hesitate to Receive Restorative Care
If you bite down into food and notice discomfort, this is the sign of a developing problem. It won't go away, so it's best to take care of it as soon as possible. Taking this approach to any indications of trouble will help to prevent a painful and costly dental emergency down the road.
Making improvements in your dental health isn't complicated. Now that you have a plan of action, all that's left is to move forward with achieving a healthy smile in 2021!
About the Author
Dr. Meredith Mosier earned her dental degree from the University of Texas Health Science Center in San Antonio. To further ensure that she can provide superb care, she takes continuing education courses throughout the year. As an advocate of preventive care, Dr. Mosier encourages her patients to take a proactive approach to their dental health. She creates functional smiles at Market Heights Family Dental, and she can be reached for more information through her website.