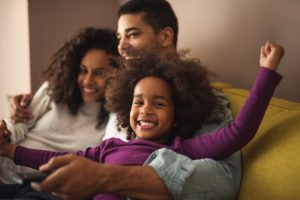 It's October, which means Jack O'Lanterns, costumes, and the happy sound of trick-or-treaters — it's one of our favorite seasons! But Halloween can also be scary a scary time for young smiles. Your dentist in Harker Heights has seen time and time again that all that sugary candy and yummy treats can weaken tooth enamel and place young smiles at a higher risk of decay and infection.
But with a little work and dedication on your end, it's not hard to help your kids enjoy the holiday responsibly. Keep reading to learn our top 4 tips for a healthy and happy halloween!
#1: Limit Candy to One Area
Before October 31 arrives, set up a candy spot in your home and make sure everyone agrees to only indulge in sweet snacks in this specific area. Limiting candy consumption to a single room (preferably the kitchen, or else away from the television and other distractions) reduces the risk of overeating and mindless snacking.
#2: Talk to Your Kids
It's no big secret why you want to limit the amount of candy your family eats this time of year, so don't be afraid to talk about it. Talk to your kids about why eating too much candy can be harmful for their smiles and overall health, and why good nutrition and a low-sugar diet are important for feeling good and being healthy. And don't forget that they're watching you more than you think at times. Make sure you practice what you preach by limiting your own candy consumption around halloween.
#3: Set Up a Trade
Trick-or-treating is one of the best parts of being a kid, and it's not so easy to get them to surrender any portion of their spoils on halloween night. You can help them willingly give up some of the sweet treats by setting up a little trade, or a Halloween Buy Back. Maybe in exchange for 10 pieces of candy they can have one trip to the movies, for example. Then the tricky part is not eating all the spoils for yourself when the trading is complete!
#4: Schedule a Visit to the Dentist
October is a great time to schedule a checkup and cleaning for the whole family. Bring your kiddos in to make sure their teeth are healthy after halloween. Your dentist can apply a topical fluoride treatment to remineralize teeth and help them stand up better to the acids in sugar. Dental sealants, if your child doesn't have them already, protect the chewing surface of the molars and premolars from food particles to prevent cavities on these teeth. Your dentist looks forward to seeing you in October (or soon after)!
About the Authors
Dr. Melinda Duncan and Dr. Brenna Sura are trusted providers of general and family dentistry in Harker Heights. To learn more about how you can help your child have a healthy halloween or to schedule a checkup and cleaning during this sugary season, you are invited to contact the office at 254-699-3565.