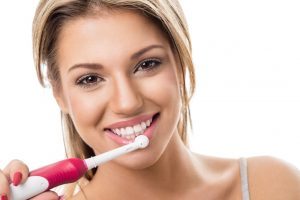 Would you like your visits to your dentist in Harker Heights to be a breeze, every single time? Of course you would — and upgrading to an electric toothbrush can help make that wish a reality. It's not that a manual toothbrush is necessarily bad, but most people just don't manage to get an effective clean using them. Keep reading to learn more about why buying a powered toothbrush could be the best investment you ever made!
Manual vs. Powered Toothbrushes
Excellent oral hygiene demands that you brush your teeth for 2 minutes, after each meal or at least twice a day. You should brush each quadrant for 30 seconds each, covering all the surfaces. Move in gentle, circular motions instead of back and forth strokes. Oh, and use a soft-bristled brush.
It's a lot to remember — and most of us neglect at least a few of these necessary ingredients of proper brushing. That's where an electric toothbrush can come in handy.
Unlike a manual tool, your powered brush does most of the hard work for you. That includes…
A spinning or pulsating head that makes it easier to clean in circular motions.
A timer that lets you know when to move from one quadrant of the teeth to the next.
Automatic power-off that makes it easy to brush for 2 minutes, every single time.
Electric toothbrushes are a bit pricier than the manual kind, but we would say it's worth the investment for cleaner, healthier teeth. And today, there's more variety in electric toothbrushes than ever — so you should be able to find one that fits comfortably within your budget.
Ace Your Checkups and Cleanings
Properly used, a toothbrush removes the plaque, bacteria, and food particles that collect on your teeth and around your gums throughout the day. This step is necessary to prevent tartar buildup and oral hazards like cavities and gum disease.
But whether you prefer a manual or a powered brush, don't forget about the basic steps of oral health and hygiene. Toothbrushing is just one step of a long-lasting smile, after all!
To enjoy clean, healthy teeth for years to come, remember to…
Brush your teeth for two minutes, at least twice a day
Use a fluoride toothpaste to strengthen tooth enamel
Floss your teeth daily
Eat a balanced, nutritious diet
Avoid cigarettes and tobacco
Visit your dentist for routine checkups and cleanings
When was your last visit to the dentist? If it's been longer than six months, it's time to come in. We invite you to make an appointment before the end of the year to ensure you enter 2018 smiling big and bright!
About the Authors
Dr. Melinda Duncan and Dr. Brenna Sura are general dentists providing comprehensive dental services for families and individuals in Harker Heights. To learn more about their services or to schedule an appointment for superior dental care, you are invited to contact Marketing Heights Family Dental at 254-699-3565.