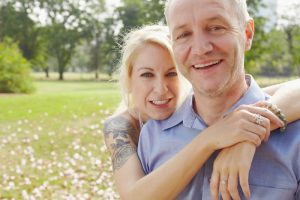 Oral cancer is on the rise in the United States, and the need for routine screenings is more important than ever. That's why we are honoring National Oral Cancer Awareness Month in April. It may surprise you to learn that all patients over the age of 18 should have an annual screening — keep reading to find out more about why, then schedule an exam with your dentist in Harker Heights this month!
Rates of Oral Cancer Are Increasing
Oral cancer has long been linked to smoking and tobacco use. In fact, the majority of people with the disease are tobacco users. But even still, the rates of tobacco use are decreasing in our country as those of oral cancer spike. Why? Because of the connection between this cancer with the human papillomavirus (HPV), a sexually-transmitted disease that affects the vast majority of younger people. Estimates say nearly 100% of young adults will have contracted HPV in their twenties. For this reason, oral cancer is affecting more young and otherwise healthy patients than ever before. Young men appear to be at the highest risk of HPV-related oral cancer.
How Oral Cancer Screenings Help
Early detection of oral cancer can make a significant difference in the chances of successful treatment. Unfortunately, the disease often remains unnoticed for years, continuing to worsen until proper treatment is not possible. That's why routine oral cancer screenings are vital. Adult patients who routinely have this exam performed have higher 5-year survival rates than those who do not. It only takes a few minutes to have an oral cancer screening — and getting one could quite literally save your life.
What to Expect From an Oral Cancer Screening
An oral cancer screening is a simple visual and tactile examination that can be completed at the same time as your routine checkup and cleaning. You can also schedule a separate appointment for this screening if you wish. Your dentist will begin by asking a few questions pertaining to your oral health, like whether or not you have noticed any significant changes or something out of the normal lately. After this portion is complete, next comes the examination, when your dentist is looking out for irregularities including…
Lesions that have not healed after several days

Lumps or bumps in the soft oral tissues

Discoloration or rough patches in the soft tissue

Asymmetry of the face

Redness or swelling
If anything unusual is discovered during this screening, we will partner with you to help ensure you receive the follow-up treatment you need as soon as possible.
When was your last oral cancer screening? There has never been a better time to schedule one than now, during National Oral Cancer Awareness Month! Do so and feel great knowing you're doing what's right for your oral and overall health.
Meet the Practice
Market Heights Family Dental offers comprehensive dentistry services from the comfort of their Harker Heights dental practice, and they invite all patients to join them in honoring National Oral Cancer Awareness Month! To learn more or to schedule an appointment for a screening, call the office at 254-699-3565.