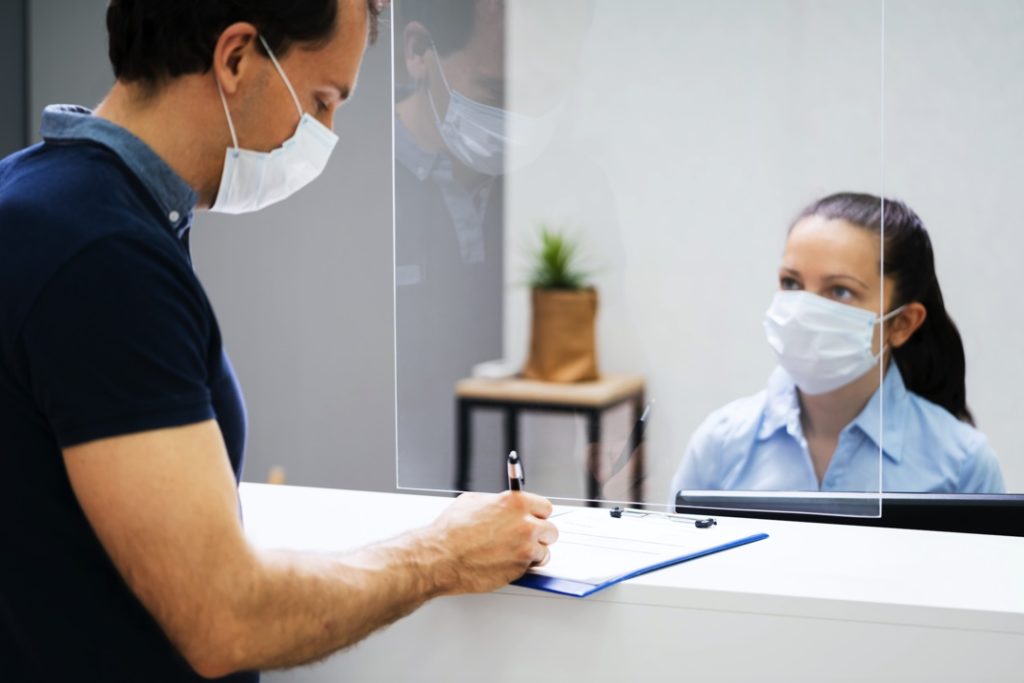 There have been many steps that you've been taking to keep yourself and others safe from contracting COVID-19. By avoiding public outings, working from home, wearing a cloth face covering, and frequently washing your hands, you've been doing your part in lowering the curve of cases. Your dentist in Harker Heights is doing his part too. Continue reading to learn more about how social distancing works in dentistry as well as other precautionary measures being taken to keep the office safe.
Fewer Chairs in the Reception Area
In order to make social distancing a reality in the office, fewer chairs have been placed in the reception area. This makes it easier to ensure that you are staying at least 6 feet away from others at all times.
One-Way Traffic
Helpful signs have been placed around the office and there is a one-way traffic system in the clinical area. This reduces that likelihood of unnecessary contact between people in the office.
Virtual Waiting Room
In the past, you go inside the office to check in for your appointment. Now, you can check in from your car. When you arrive to the practice, just give your dental staff a call to let them know that you've arrived. When they're ready for you, they will come get you and bring you directly to your treatment room. This means no in-office waiting!
No Handshakes or Hugs
As much as your dental team loves you, hugs and handshakes are off limits for the time being because of the close physical contact that's required. Instead try some creative greetings with limited contact, like the elbow bump or air high-five. This helps to reduce the probability of spreading illnesses to one another in the office.
Safety Champion
The safety champion is one person in the office that has been designated to guide the Commitment to Safety. This responsibility includes greeting patients, answering questions, enforcing social distancing, and overall monitoring of the office.
No Office Tours
Normally, your dentist loves showing new patients around the office. Unfortunately, these tours will have to wait for later date when it is safe to do so.
Hard Plastic Barriers
Clear guards have been installed strategically throughout the office. This helps by adding an additional barrier between yourself and others in the practice. It blocks the movement of airborne particles that are released when someone coughs, sneezes, or talks. Your dental team disinfects these plastic barriers frequently.
With all the new precautionary measures being taken by your dentist in Harker Heights, you can keep up with your oral health with peace of mind that you are being protected from becoming sick.
About the Author
Dr. Jesse McKinney is a dentist serving families located in and around the Harker Heights, TX area. He completed his Doctor of Dental Surgery from the University of Tennessee Health Science Center. He is a member of numerous professional organizations including the Texas Dental Association and the Academy of General Dentistry. Dr. McKinney is taking 14 additional steps to keep the office as safe as possible. For more information or to schedule an appointment, visit his website or call (254) 699-3565.