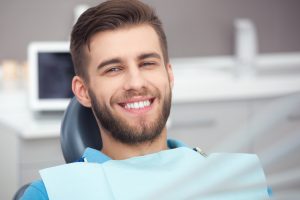 This year, it's estimated that nearly 50,000 people will be diagnosed with oral cancer. It's a disease that shouldn't be taken lightly, given that over 8,000 people are expected to succumb to the condition this year. To turn these statistics around, dentists are working in unison to recognize National Oral Cancer Awareness Month by encouraging people to get in for a preventive care visit. Here's why it's so important to do-so.
What is Oral Cancer?
Oral cancer usually begins in the flat cells in the mouth that cover the tongue, lips and other surfaces. It can be brought on by the following contributors:
Tobacco use
Sun exposure
Heavy alcohol consumption
Diet high in processed ingredients
Infection with human papillomavirus
The Power of Early Detection
One of the reasons preventive care visits are so important is they leave you with a cleaning and full examination. The former helps to remove harmful plaque and tartar that could otherwise contribute to teeth and gum health problems.
While visiting, you'll also undergo a complete oral cancer screening. This is vital to have done because if there are any signs of the disease, you can immediately start formulating a treatment plan with your dentist.
Statistics show that with early detection and treatment, the five-year survival rate is 75%, but if the symptoms are ignored until the disease worsens, that number falls drastically to 20%.
What Symptoms Will Your Dentist Look for?
As part of the assessment process, your dentist will be looking for these common signs of oral cancer:
Red or white patches
Lumps in the oral cavity
Signs of numbness in the mouth or lips
Sores and bumps that have persisted more than a few days
Preventive Measures You Can Take
Because oral bacteria have been found to be such major contributors to the development of oral cancer, it's of the utmost importance to practice excellent oral hygiene, which includes brushing and flossing your teeth at least two times a day. It's also a good idea to drink plenty of water. This helps to flush your mouth of any lingering food particles after you eat, and the moist environment makes it harder for bacteria to survive.
You should also limit your consumption of foods high in sugar. That's because the latter happens to be the most desirable form of sustenance for bacteria to feed on.
Maintaining excellent oral health and preventing the development of oral cancer are priceless, so to experience the joys of this happening for you, contact your dentist to schedule a preventive care visit today!
About the Author
Dr. Melinda Duncan is a graduate of the University of Tennessee Health Science Center. Throughout her career, she has focused on providing the best in oral care, which is why she maintains professional affiliation with the Academy of General Dentistry. Dr. Duncon helps patients experience the peace-of-mind of preventing oral cancer at Market Heights Family Dental, and she can be reached for more information through her website.