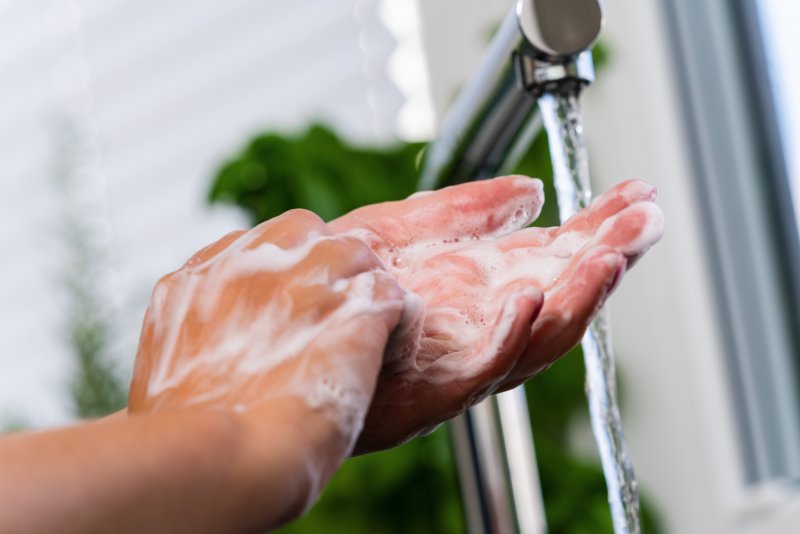 A few months into 2020, our world changed. Milestone celebrations, birthday dinners, and weekend hangouts were all canceled in the name of infection control. While our daily lives continue to change as new information arises, the CDC remains adamant that proper hand hygiene is crucial in fighting the spread of this virus. However, for handwashing and sanitizing to be effective, both the frequency and technique need to be considered. Therefore, your dentist in Harker Heights is sharing everything you need to know about how proper hand hygiene can help keep you safe during COVID-19.
How Can Handwashing Help Beat COVID-19?
Although new studies are being conducted each day on the novel Coronavirus, both the Centers for Disease Control and Prevention and the World Health Organization continue to reinforce the importance of hand hygiene. After all, a recent study by Harvard Medical School found that people can carry up to five million bacteria on each hand! Therefore, forgoing handwashing allows any viruses on your hands to hang around long enough to pass from person to person. This is the exact scenario that needs to be avoided to flatten the curve and fight COVID-19.
4 Steps to Washing Your Hands Properly
Pandemic or not, quickly rinsing your hands under water will not do the trick. For bacteria and viruses on your hands to be removed, a proper handwashing regimen must be implemented. To keep it simple and effective, follow these four steps:
Turn on clean, running water – Although water alone is not sufficient to clean your hands, it does play a crucial role in handwashing. It breaks down the components in the soap so they can start killing the germs that live on your hand.
Use your soap of choice – Once your hands are rinsed with water, squeeze your soap of choice onto the palm of your hand. From there, work the soap into a lather by rubbing your hands together. Make sure to scrub the front and back of your hands, in between your fingers, and underneath your nails for at least 20 seconds.
Rinse thoroughly – To ensure that all of the soap, and the germs it killed, are removed from your hands, you need to rinse thoroughly.
Dry completely – The last step in the process is drying your hands completely. Whether you are using a cloth towel, air dryer, or paper towel, make sure to dry your hands gently to protect your skin from becoming agitated.
When You Need to Wash Your Hands in a Pandemic
Did you know that only 33% of people wash their hands as often as they should? Yikes! Although handwashing is important whether there is a pandemic or not, the CDC is currently recommending that you wash your hands:
After using the restroom.
When taking out the garbage.
Once you return home.
Anytime you touch public surfaces (i.e., railings, cash, etc.).
After sneezing, coughing, or blowing your nose.
Even while you're in the comfort of your own home.
When to Use Hand Sanitizer
Although hand sanitizer is not as effective as washing your hands, it is a great alternative when soap and a sink aren't available. Therefore, use hand sanitizer as a short-term solution until you can practice thorough handwashing.
Living in the middle of a pandemic can be anxiety-inducing. As we transition out of quarantine, it is more important now than ever that we all do our part in creating a safe environment for our community. Fortunately, something as simple as handwashing and sanitizing can help save lives and flatten the curve!
About the Author
Since achieving his Doctor of Dental Surgery at the University of Tennessee Health Science Center in 2017, Dr. Jesse McKinney has joined multiple prestigious organizations, like the Texas Dental Association. As a self-proclaimed lifelong learner, Dr. McKinney continues to develop his impressive skills through numerous continuing education hours. If you would like to see how he is using his experience to keep his patients safe during COVID-19, visit his website or give him a call at 254-699-3565.