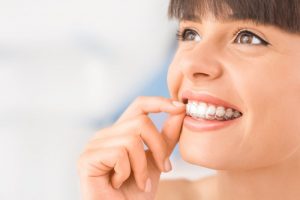 In past decades, the only option for straightening teeth was to be fitted with metal braces. Thankfully, orthodontics has come a long way, as patients can now achieve their dream smile with Invisalign in Harker Heights. What is Invisalign and how is it able to deliver the same results as braces? Continue reading to find out!
The Difference Between Invisalign and Metal Braces
With traditional braces, metal brackets and wires are used to apply pressure to straighten teeth. Invisalign clear braces provide a discreet alternative, using a series of custom-designed trays to gradually move teeth. The dentist will take a careful approach to ensure you're able to achieve the smile of your dreams.
Step #1 – The Consultation
Invisalign is quite versatile, as it can be used to correct a multitude of orthodontic problems. Still, there are some situations that are too complicated for it to fix. For example, Invisalign typically can't be used to correct teeth that have rotated more than 20 degrees.
Here are some of the issues it can address:
Step #2 – Diagnostic Records
Once you're cleared to proceed with Invisalign treatment, the dentist will gather some additional information, which includes taking a series of photographs of your face and smile, along with dental X-rays. The information gathered will allow the dentist to customize care to your specific needs and send the measurements to a certified Invisalign lab to fabricate the first set of trays.
Step #3 – Gathering Your Invisalign Clear Braces
It will typically take a couple of weeks for the first set of trays to arrive. You'll be fitted at the dentist's office to make sure they're compatible with your smile. If needed, the dentist will make any necessary adjustments and give pointers for how to insert and remove the trays.
Step #4 – Follow-up Appointments
Throughout the treatment process, the dentist will likely want you to visit every four to six weeks to monitor your progress. As long as you're making adequate progress, the dentist will continue providing you with new trays until the Invisalign treatment process is completed.
Step # 5 – Final Refinements
Once you've worn the last set of trays, there may still be the need to make some final tweaks. The process involves the dentist conducting a few scans of the current position of your teeth that will be used to craft refinement trays. Usually, only one or two refinements are required.
Step #6 – Retainers
After your teeth are properly aligned, the next step is to receive a set of retainers. They typically come in the form of clear-plastic trays that look similar to your Invisalign clear braces. The dentist will give specific instructions as to how long you'll need to wear the retainers.
To learn more about the process of getting Invisalign clear braces and straightening your teeth in a discreet manner, contact a local dentist to schedule an initial visit. Typically, in less time than it takes to fix a smile with traditional braces, Invisalign patients are able to enjoy a brand-new look, better functionality and heightened confidence!
About the Author
Dr. Meredith Mosier earned her dental degree from the University of Texas Health Science Center at San Antonio. To further broaden her treatment scope, she has taken several hours of postgraduate education. Dr. Mosier creates beautiful and functional smiles with Invisalign at Market Heights Family Dental, and she can be reached for more information or to schedule a visit through her website.