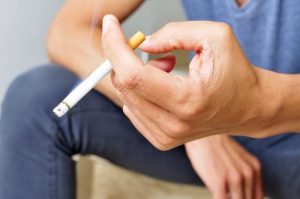 You don't wake up thinking, "Hey, I want something bad to happen to my teeth or gums today." However, some of your activities may leave you susceptible to an oral health setback. By being better informed and taking the appropriate actions, you can prevent an unforeseen mishap. As you continue reading, a dentist in Harker Heights lists 5 bad habits that should be avoided.
#1 – Smoking or Chewing Tobacco
Using tobacco can lead to a host of problems. For starters, the nicotine that the products contain, release harmful toxins in your mouth that can contribute to accelerated plaque growth. This can leave you more susceptible to developing cavities, gum disease and even oral cancer. Because there is no safe way to use tobacco products, the best way to protect yourself is to stay away from them.
#2 – Using Your Teeth as Tools
Simply put, your teeth are designed to chew food. Using them for opening packages or trimming your fingernails can lead to such issues as a chipped, broken or dislodged tooth. As tempting as it may be to take a short-cut, think about the consequences first.
#3 – Attempting to Eat Ice
It can be especially enticing to gnaw on a piece of ice during the warmer months of the year, but it's ill-advised. Although it may seem harmless, chewing on ice could lead to a painful tooth crack that requires an emergency dental visit to fix.
#4 – Consuming Loads of Sugar
While it may seem okay to chump on one more piece of candy or a slice of your favorite dessert item, you should take into consideration what it can do to your teeth. It just so happens that sugar is the preferred food of oral bacteria. Thus, the more you take in, the greater your chances are of developing cavities and gum disease.
#5 – Aggressive Toothbrushing
There are some situations where applying a little more "elbow grease" can be dangerous. Such is the case with brushing your teeth. Being too aggressive can lead to enamel damage, which is a big deal considering that the material can't be regenerated once compromised.
For more effective results, use a toothbrush with soft bristles and apply moderate pressure when cleaning. Therefore, you won't have to worry about any unforeseen issues popping up.
It's always much easier to prevent problems than it is to treat them once they've emerged. To protect yourself, keep these points in mind and be proactive moving forward so you can enjoy healthy teeth and gums!
About the Author
Dr. Jesse McKinney is a graduate of the University of Tennessee Health Science Center. To continue to sharpen his skills, he takes numerous hours of continuing education annually. Additionally, Dr. McKinney maintains professional affiliation with such organizations as the Academy of General Dentistry, Capital Area Dental Club and Capital Area Dental Foundation. He helps patients avoid dental health issues by providing superb preventive care at Market Heights Family Dental, and he can be reached for more information through his website.