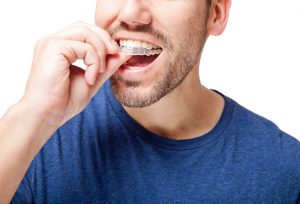 You've seen multiple stories about celebrities getting Invisalign, and they've made you interested in finally getting your teeth straightened. Invisalign sounds wonderful, and it seems to give you all of the benefits of braces without actually having to get braces. As you're looking at your crooked teeth in the mirror, you think it could be the right treatment for you. You still have so many questions though: How does it work? What does it feel like? What should you expect during the process? Today, Dr. Melinda Duncan and Dr. Brenna Sura are going to answer your questions by walking you through the entire process of getting treated with Invisalign in Harker Heights.
What Is Invisalign? How Does It Work?
Invisalign is a system used to bring crooked teeth into alignment, and we're pretty sure you know that already. What you might not know, however, is how it actually works. Rather than using brackets and wires like braces, it uses a series of customized clear plastic aligner trays. Each tray applies gentle pressure to your teeth, and after you have worn the complete series, you'll have a perfectly straight smile you'll be eager to show off.
Beginning Invisalign
When you come in to see us about Invisalign, we'll start by performing a short oral exam. This will enable us to see if it is actually the best solution for your misaligned teeth as well as make sure you don't have any lingering oral health issues. Once that is all clear, our team will start the process by taking a variety of x-rays and scans of your teeth. These will be sent to an Invisalign lab to make your aligners and ensure that they fit comfortably while they are straightening your teeth.
Getting Treatment with Invisalign
Once you have gotten your series of trays, your doctor will show you how to put them on and clean them. At first, a tray may feel a little bit tight on your teeth, but after a few days, you'll barely notice it. You'll need to wear the individual trays for 2 weeks each for about 20 hours a day before moving onto the next one.
The first thing you'll probably notice is that even though you have a tray in, it's practically invisible. One of the reasons so many people are choosing Invisalign is because it allows them to keep their natural appearance during treatment, unlike braces. You'll also enjoy how smooth and comfortable they are, and this is because the plastic is much easier on the lips and cheeks than metal braces. What you'll probably enjoy the most is that you can take off a tray whenever you want. This means you don't need to worry about your orthodontics while you eat or brush your teeth.
Every 4-6 weeks, you'll come in for a quick progress check at Market Heights Family Dental, and after about a year, you'll be finished! Your particular treatment time will depend on your specific case, but often, Invisalign needs much less time than braces to completely straighten your smile.
Any Questions?
After reading this, it's probably easy to see why people are choosing Invisalign over braces. It's orthodontic treatment that's made to seamlessly fit into people's lives, and it gives them a much better experience while trying to improve their oral health and appearance.
If you'd like to know more about Invisalign or want to start getting it, just give our office a call today.