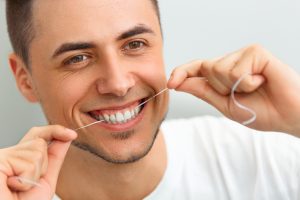 It's Spring, and as you think about gardening as the warm weather approaches, you understand what it takes to produce a successful yield of fruits and veggies. In fact, one of the first things you think about is how the right soil is crucial to make sure plants blossom. This same logic can be applied to your teeth and gums. The gums are essentially the foundation for your teeth, and no matter how beautiful your pearly whites look above the surface, if the gums aren't healthy, your smile won't shine like your garden does. That's why the team at Market Heights Family Dental share their expertise on how to prevent and treat gum disease. Learn all about the signs and symptoms of this common condition from trusted dentist in Harker Heights.
What Is Gum Disease?
Dr. Melinda Duncan and Dr. Brenna Sura explain that about half of Americans are affected by some form of gum disease. There are three stages of this condition, and we'll review the symptoms of each stage in the list below.
#1 – Gingivitis
When the gum tissue, or gingiva, becomes infected and inflamed by the presence of oral bacteria, the first stage of gum disease begins. The symptoms of gingivitis include:
Gums that are red or swollen
Gums that bleed while brushing and flossing
A receding gum line
Noticeably bad breath
#2 – Periodontitis
As gingivitis progresses and becomes worse, it turns into the next stage of gums disease called periodontitis. This stage is most often characterized by the following symptoms:
Swollen, puffy, and/or bright red gums
Pain, discomfort, and tender gums
Pus buildup between teeth and gums
Spaces between the teeth
Bad breath or bad taste in the mouth that doesn't go away
Loose teeth that don't fit together correctly
#3 – Advanced Periodontitis
If you notice any of the signs of the third stage of gum disease, reach out to us right away. Tooth loss is often not far behind at this point, so seek treatment as soon as possible if you notice:
Severe receding gums
Deep periodontal pockets
Loose, shifting, or misaligned teeth
Tooth loss
Extreme chronic bad breath
Swollen and bleeding gums
How Can You Help With My Gums?
When it comes to gum disease treatment in Harker Heights, there are many options we offer to provide our patients with the highest quality dental care they deserve. Below are just some of the treatment methods we have available to serve our clients' smiles:
Increased and more frequent cleanings
Professional strength, medicated mouthrinses
Root scaling and planing
Topical antibiotic treatment with Arestin®
LANAP laser gum therapy
We're especially proud to offer LANAP laser therapy for gum disease, since this innovative treatment method allows us to address the root cause of this condition and to treat it properly. LANAP also offers the unique benefit of speeding up your recovery time and making the healing and reattachment process easier.
Now that you know what to look for to determine if you have gum disease, schedule your appointment with Market Heights Family Dental prevent this condition from happening and to keep your smile healthy and bright!