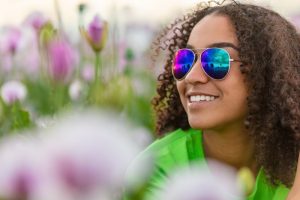 The weather is getting nicer, birds are singing, and plants are beginning to bloom, which means it's finally springtime! Now is the perfect time of year to clean out our homes and daily routines to refresh our well-being. While you likely have plenty of things on your spring cleaning checklist, don't forget about your oral health! Cleaning out old dental supplies and picking up some new healthy habits might just be the perfect way to kick-start your spring. Here are five easy and effective ways to spring clean your smile.
1.) Throw Out All Your Expired Oral Hygiene Products
How many unused bottles of mouthwash and half empty tubes of toothpaste do you have in the back of your cupboards? While most oral hygiene products don't "go bad" like food, they do have expiration dates. After these dates, they lose most of their effectiveness and don't clean your smile as thoroughly as they should. Take some time to clean out your bathroom storage and throw out any expired products that you find. Then don't forget to restock with new ones!
2.) Get a New Toothbrush
When was the last time you replaced your toothbrush? Studies show that after three to four months of regular use, toothbrush bristles begin to trap and hold oral bacteria rather than scrub them away. If your toothbrush is past its prime, it's time to get a new one. You'll be amazed at how fresh your pearly whites will feel after using a new toothbrush!
3.) Clean Your Retainer or Mouthguard & Their Case
Hopefully, you're regularly cleaning your retainer, athletic mouthguard, or nightguard to prevent plaque and bacteria buildup. But what about their storage cases? Cleaning your mouthguards or retainer won't mean much if their cases aren't clean! Take some time to soak and brush your storage cases to clean out any dried-out buildup it may be harboring.
4.) Choose & Practice Some Healthy Habits
Have you given up on your New Year's resolutions? Don't worry, you're not alone. Fortunately, if you're looking for an easy, meaningful, and achievable way to improve yourself, your oral health is a great place to start. Practice flossing every single day, brushing your teeth for a full two minutes twice a day, and rinsing with mouthwash on a regular basis. These little habits can go a long way in keeping your smile looking and feeling its best all year long.
5.) Schedule Your Next Dental Checkup
Keeping your smile clean and healthy at home is only half of the equation for better oral health. You need to visit your Harker Heights dentist every six months for a routine checkup and cleaning as well! They'll be able to thoroughly clean out all those nooks and crannies you can't effectively reach yourself, and they'll give you personalized tips on how you can take better care of your smile. They'll also be able to detect any early warning signs of oral health issues so they can be treated right away.
Spring cleaning your oral health will help you feel refreshed, healthy, and ready to take on the rest of your list! Try out the easy and effective tips above, and call your dentist if you have any questions.
About the Practice
At Market Heights Family Dental, we're committed to helping the families of Harker Heights achieve beautiful, healthy, and comfortable smiles. Dr. Jennifer Hoang and Dr. Anglie Lim have completed extensive training in a wide variety of topics covering everything from same-day dental crowns to nitrous oxide sedation. If it's been longer than six months since your last checkup, they would love to see you and help get your oral health back on track. They can be reached online or at (254) 699-3565.