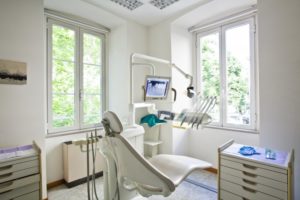 The COVID-19 pandemic has dramatically changed what "normal" means for many aspects of our lives, including routine dental appointments. Dentists are working tirelessly to safeguard your health while providing the excellent dentistry you may need after weeks in quarantine. A wide variety of new infection control protocols and extra safety precautions have been put in place to protect you from the coronavirus during your visit. Here's what to expect before, during, and after your next appointment with your Harker Heights dentist.
Before Your Appointment
Your next dental appointment will be somewhat different than any you've had before, and you'll first notice the changes as soon as you arrive to the practice. Instead of walking into the office, you'll be asked to check in for your appointment from your car. This "virtual waiting room" reduces your exposure to other patients and allows you to go straight to your treatment room when it's ready.
Although you won't be spending much time in the reception area, you'll probably notice that several changes have been made to it as well. Toys, magazines, and several chairs have been removed to limit the number of frequently touched surfaces and encourage social distancing. Clear plastic barriers have also been installed to hinder the movement of airborne particles.
During Your Appointment
Even though your dental team is thrilled to welcome you back to the office, your appointment won't begin with a hug or a handshake. Instead, they'll be utilizing a variety of fun touch-free greetings to prevent the spread of germs. Additionally, your treatment will start with a quick health questionnaire and no-touch temperature check. Since many cases of COVID-19 present few or mild symptoms, there is a chance of someone being sick and contagious without realizing it. A patient pre-screening helps identify some easily overlooked warning signs.
After Your Appointment
After you leave the treatment room, every surface, fixture, and dental instrument is thoroughly cleaned and disinfected before the next patient enters. Tools like dental mirrors and scalers are sterilized with methods outlined by the Centers for Disease Control and Prevention, like high heat and steam under pressure. Other equipment and frequently touched surfaces are cleaned with soap and water, then sanitized with hospital-grade disinfectant. Remember, if you begin to develop a fever, dry cough, or difficulty breathing within 14 days of your appointment, notify your dentist right away.
While your dental appointments after COVID-19 may look different than ones you've had before, you can still expect to receive the same friendly, high quality dentistry you've always enjoyed. Your Harker Heights dentist is taking every precaution to keep you and your smile as healthy as possible in the coronavirus pandemic.
About the Practice
Now and always, the top priority of our team at Market Heights Family Dental is the wellbeing of our patients and staff. We have been closely monitoring the COVID-19 pandemic and adjusting our infection control protocols accordingly. Alongside the sanitation standards set forth by the Centers for Disease Control and Prevention that we've always met, we've added 14 additional safety precautions. If you'd like to learn more about our Commitment to Safety, feel free to contact us via our website or at (254) 699-3565.