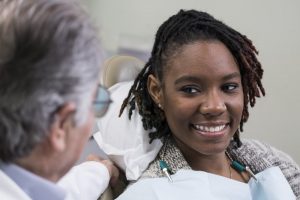 Fun and sunshine are two words that are synonymous with the summer months. As the sun beams stronger, it's only right to get outside and have some fun. A dentist in Harker Heights cautions to never lose sight of ways to stay safe and protect your oral health. That way, you won't have to endure any interruptions. As you continue reading, get 5 tips for maintaining healthy teeth and gums this summer!
#1 – When in Doubt, Drink More Water
In addition to helping to maintain healthy bodily function, drinking an adequate amount of water aids in the maintenance of good oral health. By helping to produce saliva, which serves as a natural moisturizer, drinking water can limit the growth of oral bacteria. As a general rule, you should drink at least half your weight in ounces of water per day. For example, a 200-pound person would need to drink around 100 ounces of water daily to be properly hydrated.
#2 – Keep Mouthwash Handy
If you're on the go, stopping to brush and floss your teeth can be challenging. However, failing to clean your teeth after eating a meal can leave you susceptible to bacteria growth that leads to plaque development. In such situations, mouthwash can provide a temporary solution. Simply rinse after eating a meal or drinking a beverage other than water. Then, when you get home or back to your hotel room, be sure to perform your normal dental hygienic regimen of brushing and flossing.
#3 – Limit Your Consumption of Carbonated Drinks
While they can be quite tasty, carbonated drinks can wreak havoc on your tooth enamel (the hard-outer layer). However, it's okay to treat yourself occasionally. To prevent any damage to your teeth, wait around 30 minutes before performing dental hygiene.
#4 – Use a Straw
It's perfectly natural to want to indulge in some "cheat beverages" while on vacation. One way to control the potentially harsh effects is to use a straw, as it will limit the amount of contact the beverage will have with your teeth. It's also a good idea to finish your drink as fast as possible so less bacteria are able to gather inside your mouth.
#5 – Make Room for Healthy Fruits
You don't have to eat junk food while on vacation to satisfy your tastebuds. Inquire about the local fruits so you can try them out. While fruit contains sugar, it's natural. Thus, it has a far less negative impact on your teeth and gums than the processed kind.
After toiling throughout the year, you deserve a little rest and relaxation. By following these summer oral health tips, you can ensure that this will be a happy and healthy time of the year!
About the Author
Dr. Jennifer Hoang earned her dental degree from the University of Texas School of Dentistry at Houston. Throughout her career, she has remained focused on developing and maintaining positive relationships with her patients so they can feel comfortable about every aspect of their care. Dr. Hoang provides attentive and careful dental care at Market Heights Family Dental, and she can be reached for more information or to schedule a visit through her website.