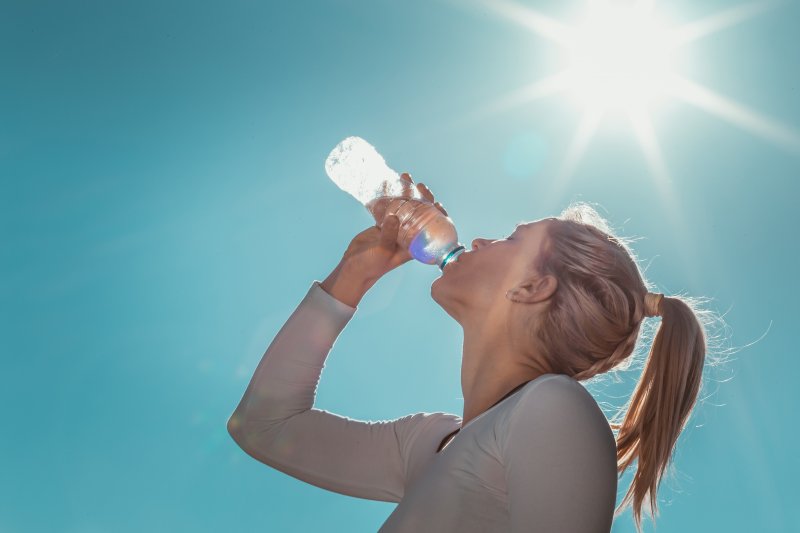 While you might be having plenty of fun in the sun, you'll want to drink lots of fluids to avoid dehydration. Not only is this important to keep your body healthy and energized, but it can also help preserve your dental health. However, other than feeling thirsty, you may not be aware of the other symptoms that are telling you to drink up some water. Read on to learn the common signs of dehydration, how this condition can affect your smile, and ways to prevent this situation during summertime!
The Impact of Dehydration on Oral Health
While brushing and flossing are essential parts of protecting your pearly whites, your saliva also plays a crucial role in washing away food, debris, and bacteria from your mouth. According to the American Dental Association, it bathes your teeth and gums in minerals like phosphate, calcium, and fluoride to strengthen your smile. If you become dehydrated, then your saliva production may reduce, increasing your risk of dry mouth and bacterial growth. When left unchecked, this can lead to mouth sores and infections.
4 Common Signs of Dehydration
Most people know to drink water or fluids when they're thirsty. However, this isn't the only symptom to watch out for. Here are several other signs that you may be dehydrated:
Dry mouth or bad breath: Without a sufficient volume of saliva, your mouth can become dry, allowing bacteria to grow more easily. This can cause bad odors as well as make you vulnerable to disease.
Headache: Whether it's mild or moderate, a headache can typically mean you're dehydrated. Some researchers have found that this condition can cause brain tissue to temporarily shrink, which leads to discomfort.
Muscle cramps or spasms: Essential minerals like potassium and sodium help control your nervous system functions and maintain balanced pH levels. If you don't have enough of them, then you may experience dehydration as well as electrolyte depletion, which causes muscle spasms and cramping.
Feeling tired, hungry, or like you have the flu: Dehydration can often make you feel like you've caught the flu, as you might be tired, dizzy, nauseous, and/or hungry. If you're experiencing feverish sensations, then you should first consider drinking plenty of fluids.
Ways to Prevent Dehydration
The best way to avoid dehydration is simply to consume ample amounts of liquids (preferably water) throughout the day. You can also eat foods that are high in water content, such as veggies and fruits. This is especially necessary during hotter seasons or if you're in warmer climates, but make sure to also drink lots of water in cold weather as there can be limited moisture in the air. Consider drinking water containing electrolytes to help you better retain essential nutrients while exercising.
By practicing these few tips, you'll be able to effectively prevent dehydration. Not only will you beat the summer heat, but you'll also make the most of a healthier smile in the long run!
About the Practice
At Market Heights Family Dental, we are proud to deliver outstanding, comprehensive, and friendly dental care. Our professional dentists have years of experience and are more than happy to help you achieve and maintain your best dental health. We offer a wide selection of high-quality treatments, including dental checkups/cleanings and periodontal therapy to preserve your gums and pearly whites. If you'd like to know more about dehydration and how to prevent it, feel free to visit our website or call 254-699-3565.