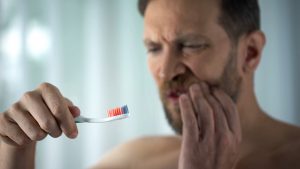 Nothing could be more disruptive to your precious holiday moments with family and friends than troublesome dental trauma. To make matters worse, it can typically cause severe discomfort. Because you can't always prevent it from happening, it's best to have a plan of action for how to respond to a dental emergency. So you don't have to endure any unnecessary suffering and to encourage a faster recovery process, your emergency dentist in Harker Heights provides some useful tips for responding to some of the more common types of trauma.
Toothache
A painful toothache can make it impossible to enjoy the holiday delights. In the event one occurs, you can rinse your mouth with warm salt-water to slow down the infection. To decrease any swelling, you can apply a cold compress to the outside of your jaw.
Chipped or Broken Tooth
Attempting to bite into something that's too hard for your teeth can result in a sudden chip or break. If this happens, save any pieces that may have fallen out and rinse your mouth with salt-water. If there is any bleeding, gently apply pressure to the area for 10 minutes using a cotton gauze. If the bleeding persists beyond that point, then you should immediately head to the emergency room.
Knocked-Out Tooth
If a tooth is dislodged, it's important not to panic. Instead, carefully grab the tooth by the crown and rinse it under cool water. You can then attempt to reinsert it where it belongs. If that's not possible, then place the tooth in a cup of cool milk or water until you can be seen by an emergency dentist.
Partially Knocked-Out Tooth
To address a partially dislodged tooth, you can apply a cold compress to reduce any swelling and take an over-the-counter pain reliever. It's also critical that you avoid any activity in that area until your oral health is restored to normal.
Dislodged Crown
If a dental crown falls out, you can apply dental cement, denture adhesive or toothpaste, and attempt to reinsert it. If you're unable to do-so, then place the crown in a secure container and take it to your emergency dentist's office when you visit.
Lost Filling
When a filling is lost, the tooth is left exposed to debris and bacteria entering and causing a painful infection. To avoid this happening, you can apply dental wax (which can be purchased at a local drugstore) to temporarily fill the space until you can be seen by an emergency dentist.
Infection/Abscess
Whether you have an infection or worse, an abscess (when an acute infection forms pus), it's important to receive immediate attention. That's because it can eventually spread to other parts of the body, which can sometimes have life-threatening consequences.
To slow the advancement of bacteria, you can gargle with a salt-water solution and take ibuprofen to lessen any discomfort.
By knowing how to respond to these more common types of dental trauma and reaching out to your emergency dentist to seek treatment, you can recover faster and get back to enjoying the priceless holiday moments.
About the Author
Dr. Melinda Duncan earned her dental degree from The University of Tennessee Health Science Center. As a wife and mother, she understands the importance of spending time with family and friends during this time of the year. Thus, Dr. Duncan helps patients recover swiftly from holiday dental emergencies at Market Heights Family Dental. She can be reached for more information through her website.