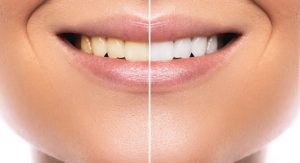 Has your smile lost its luster? If so, you have probably developed insecurities, often causing you to hide your teeth. To restore its brightness, there are many over-the-counter whitening products available. They are affordable and convenient, making them the perfect solution, right? Not so fast. You will quickly find they are ineffective and do not produce the results you want. They do not contain professional-grade whitening agents so they will not resolve dark discoloration. The only way to achieve the noticeable results you want is with professional teeth whitening in Harker Heights. At Market Heights Family Dentistry, we will help you achieve a bright, white smile from the comfort of your own home.

Why is My Smile Discolored?
Your teeth will naturally discolor as you age. It is unavoidable. However, there are many factors that influence how drastically your enamel will change. The foods and drinks you consume play an important role in the brightness of your smile. Eating and drinking a lot of darkly pigmented or acidic foods and drinks will cause your smile to dull prematurely. In addition, lifestyle habits, like poor oral hygiene and tobacco use, will also cause your teeth to turn brown and yellow.
Why Should I Choose Professional Whitening Treatments?
Over-the-counter whitening products have become popular because they allow you to whiten your smile around your own schedule. This seems like the perfect solution when you do not have time for a lengthy whitening treatment; however, you will quickly find that you are disappointed with the results.
The products that are available at your local store do not contain a high concentration of whitening agents. As a result, they will not deeply penetrate the enamel. You may notice minimal results, which will not last. Not to mention, it will provide you with inconsistent results, which can further make you feel insecure.
Professional whitening treatments with your dentist in Harker Heights are the only way to drastically brighten your smile with results that last. We offer at-home kits to resolve discoloration around your own schedule without compromising the results you achieve.
How Can I Whiten My Smile at Home?
After an initial consultation, we will create custom-made whitening trays for you to use at home. Not only does this provide added comfort, but helps to promote the even distribution of the whitening agent for consistent results. We will also give you the whitening gel.
You will use the whitening kit each day at home for a set period of time. Over the course of the next two weeks, you will start to see a bright smile shine through. Your teeth will become several shades whiter and your results will last to restore your confidence.
Are the Whitening Treatments Right for Me?
If you are ready to get a bright, white smile from the comfort of your own home, it is time to see if professional teeth whitening is right for you. Contact our office today to schedule your consultation for an at-home kit.