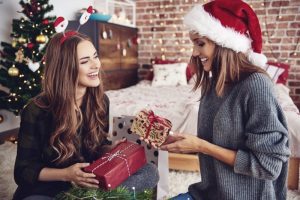 With the holiday season here, you're probably making the necessary preparations for a family event or finalizing your shopping list. Your dentist in Harker Heights says that along the way, don't forget about your oral health. This is especially important given the many delights that will be available to eat and drink. As you continue reading, you'll learn about 5 ways you can protect your teeth and gums during this festive time of the year!
#1 – Excercise Quantity Control
Although at the average holiday gathering there will be endless amounts of food and beverages to consume, it could be detrimental to your oral health. That's because the more you eat and drink, the more leftover particles there can be for oral bacteria to feed on. By practicing some portion control, you can limit the number of microorganisms present in your mouth.
#2 – Up Your Protein
Hands down, carbohydrates (sugars) are the star of any holiday meal. Because sugar happens to be the food of choice of bacteria, this can present a problem. To offset this, add more protein to your plate. Not only will it help to curb your appetite for carbohydrates, but it will also help to fortify your teeth's enamel.
#3 – Drink More Water
It's always important to drink water. However, with the increased food intake that is common during the holidays, you should consider drinking even more. Not only will it help to keep you hydrated, but it also aids in removing any lingering debris after a meal to fortify your oral health.
#4 – Practice Excellent Oral Hygiene
No matter what time of the year it is, it's critical to brush and floss your teeth at least two times a day. This is one of the major ways to preventing cavities and gum disease, a condition that affects well over half the adult population in America.
You may want to increase your efforts during the holidays, though. If you want the freedom to indulge more, consider brushing and flossing after every meal. Just be sure to wait at least 20 minutes to prevent any damage to your enamel.
#5 – Pay Your Dentist a Visit
As a general rule of thumb, you should visit your dentist at least semi-annually for cleanings and examinations. If you're behind in this area, then now is the perfect time to take action. Thus, you'll know the state of your oral health and receive the added protection that comes along with having your teeth professionally cleaned.
The holiday season is a magical time of the year. By acting upon what you've learned here, you'll be able to enjoy each moment without having to worry about your oral health!
About the Author
Dr. Melinda Duncan obtained her Doctor of Dental Surgery degree from the University of Tennessee Health Science Center. Since graduating, one of her commitments has been helping patients prevent problems from happening, which saves them time and money. Dr. Duncan provides preventive care at Market Heights Family Dental, and she can be reached for more information through her website.