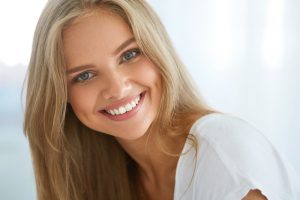 Having a beautiful smile can change a lot. After all, when you love the way your teeth look, you're more likely to want to show them off — and smiling makes a world of difference. Porcelain veneers in Harker Heights can transform an imperfect or just "meh" set of front teeth into ones that really dazzle. Keep reading to find out more about this popular cosmetic treatment, including whether or not it's right for you. It's about time you loved your smile!  
About Porcelain Veneers
Porcelain veneers are thin shells that cover up the front side of the teeth that show when you smile. With veneers, even the most significant cosmetic imperfections can be hidden.
Some of the issues that can be fixed with veneers include:
Broken or chipped teeth

Stained or discolored teeth

Slight gaps or misalignments

Unevenness

Oddly textured teeth

And other cosmetic imperfections
Dental veneers are customized to match the precise size, shape, and color that suit your facial features best — so you don't have to worry about ending up with an unnatural "Hollywood" smile (unless that's what you're going for!). Veneers are placed over the course of two visits to the dentist and can last for up to 20 years with proper maintenance.
What Makes a Good Candidate for Veneers?
Most adults and older teens who have cosmetic imperfections affecting their front teeth are eligible candidates for veneers. We do recommend that veneers be placed after the teeth are finished developing — a surprise growth spurt can end up requiring a teenager to get new veneers placed all over again.
In order for your smile to be a good candidate for veneers, the teeth should be otherwise healthy (aside from the cosmetic imperfections). Patients who have structurally damaged teeth, like those that are weak or decayed, may be better served by restorative dental crowns or inlays/onlays.
Dental veneers can also provide something of an "instant orthodontic" effect for patients who have slight gaps or minor misalignments affecting the front teeth. For more serious problems, though, conventional orthodontic treatment (i.e. braces) will be recommended.
Are Veneers Right for Your Smile?
If you have healthy but cosmetically imperfect front teeth and are interested in learning whether or not dental veneers may be the solution you have been hoping for, find out by visiting your cosmetic dentist in Harker Heights! The only way to know for sure is to seek a professional opinion. If veneers are the best solution for your smile, we look forward to getting started right away!
Meet the Practice
At Market Heights Family Dental, Dr. Melinda Duncan and Dr. Patrick O'Malley offer comprehensive dental care from the comfort of a state-of-the-art dental practice. To learn more about their services or to discuss how veneers can transform your smile, we invite you to contact your cosmetic dentist at (254) 699-3565.